Roasted Vegetable Paninis
Many of you who remember Julie Larr will know these paninis. Paninis are just grilled sandwhichs on Italian bread. The possibilities are endless and open to your imagination. Italian meats, different cheeses, seasonal vegetables... the sky's the limit. Want to try something crazy? Try a pear, gorganzola panini or a lemon asparagus panini...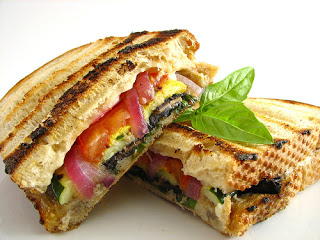 Vegetable Paninis
Ingredients
------------
Bread (Foccacia, ciabatta, or even sourdough)
Olive oil
Pesto (1-2 jars) Maybe make your own
Vegetables - Spinach, roasted bell pepper from the jar, eggplant (pre-cook on grill until tender)
Cheese - mozerella or goat cheese seam to work well
------------
Heat the flat griddle to 350 degrees. Cut the bread length-wise to ready the sandwhich. Spread pesto on the inside. Layer the cheese, vegetables, and then more cheese. (The cheese should be as close to the bread as possible to ensure melting). Put the top on and baste with a thin layer of olive oil. Place oiled side down onto the griddle and put something heavy on it to smash it in correct panini form. When doing multiple sandwhiches, I assemble them all, place them all, and then put a cookie sheet over the whole griddle and put something heavy like a cast iron pan on the top. When the crust is browned, you're done.